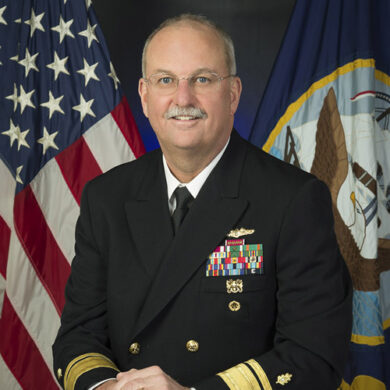 RADM Bruce L. Gillingham
Surgeon General and Chief, US Navy
Rear Adm. Bruce L. Gillingham is a native of San Diego. He holds a Bachelor of Arts in Cultural Anthropology (with high honors) from the University of California, San Diego and a Doctor of Medicine from the Uniformed Services University of the Health Sciences. He is an inductee in the medical honor society of Alpha Omega Alpha.
Gillingham completed a surgical internship and an orthopedic residency at Naval Medical Center San Diego. He also completed subspecialty training as a pediatric orthopedic surgeon at the Hospital for Sick Children in Toronto, Canada in 1995. He qualified as an undersea and diving medical officer.
He has served in various positions throughout Navy Medicine to include director of Pediatric Orthopedic and Scoliosis Surgery; Associate Orthopedic Residency Program director; and director of Surgical Services. While assigned to Naval Medical Center San Diego, he was instrumental in establishing the Comprehensive Combat and Complex Casualty Care Center (C5).
Operationally, he served aboard the hospital ship USNS Mercy (T-AH-19) as staff orthopedic surgeon and as director of surgical services. He deployed in support of Operation Iraqi Freedom II as battalion chief of Professional Services (Forward) for the 1st Force Service Support Group and officer in charge of the Surgical Shock Trauma Platoon, achieving a 98 percent combat casualty survival rate while providing echelon II surgical care during Operation Phantom Fury.
Gillingham also served as deputy chief, Bureau of Medicine and Surgery, Readiness & Health; commander, Navy Medicine West; commander, Naval Medical Center San Diego; deputy commander, Naval Medical Center Portsmouth; commanding officer, Naval Hospital Jacksonville, Florida; Pacific Fleet surgeon, and Fleet surgeon and director, Health Services, U.S. Fleet Forces. While in the Pacific, he led efforts to assist the Vietnam People's Navy in creating an Undersea and Hyperbaric Medical program, and in the re-location of Navy Medical Research Unit-2 to Singapore. In 2011, he served as the Joint Support Force-Japan Surgeon in the aftermath of the Fukushima Nuclear Disaster, ensuring the safety of over 200,000 U.S. citizens, service members and families.
He is a diplomat of the American Board of Orthopedic Surgery, a fellow of the American Academy of Orthopedic Surgeons, and the American Orthopedic Association and a member of the Pediatric Orthopedic Society of North America, American College of Physician Executives, Society of Military Orthopedic Surgeons and Association of Military Surgeons of the United States. He has published over 30 scientific articles and book chapters. In his previous assignment, he served as the director, Medical Resources, Plans and Policy (N0931), Office of the Chief of Naval Operations.
He currently serves as surgeon general of the Navy, N093/chief, Bureau of Medicine and Surgery.
Gillingham's personal awards include the Legion of Merit (seven awards), Meritorious Service Medal, Navy and Marine Corps Commendation Medal (two awards), Navy and Marine Corps Achievement Medal, Iraq Campaign Medal with the Eagle Globe, and Anchor device with bronze star and the Fleet Marine Force ribbon.
Back to Speaker Profiles