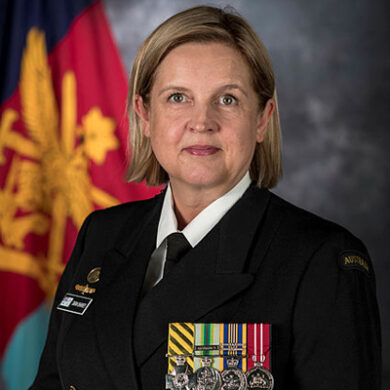 RADM Sarah Sharkey
Surgeon General Australian Defence Force, Commander Joint Health
Rear Admiral Sarah Sharkey, AM, CSC RAN, MBBS, MBA, MPP, AFRACMA
Rear Admiral Sarah Sharkey has served as a Medical Officer in the Royal Australian Navy for more than 25 years.
Sarah began her service under sponsorship while an undergraduate medical student at the University of Queensland; and has enjoyed a range of postings both at sea and ashore with her clinical background being mainly in submarine and diving medicine. In her more recent career, Sarah has served at the Director General level in Joint Health Command, and as the Head of the Navy Health Community.
Sarah has a Bachelors of Medicine and Surgery, Masters in Business Administration, and a Masters in Politics and Policy. She is a Fellow of the Centre for Defence and Strategic Studies and an Associate Fellow of the Royal Australian College of Medical Administrators and is a graduate of the Advanced Management Program at the Harvard Business School.
Sarah is a recipient of the Australian Defence Medal, Australian Service medal with Solomon Islands Clasp, and the Defence Long Service Medal. She was appointed a Member of the Order of Australia in the 2020 Queen's Birthday Honours List, a Chief of Army Commendation in 2001, and a Conspicuous Service Cross in the 2014 Queen's Birthday Honours List.
Sarah is married to Frank and together their biggest achievement is being the proud parents of Samuel, Bridget, Patrick and Daniel.
Back to Speaker Profiles