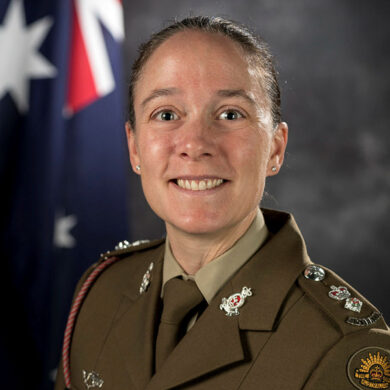 LTCOL Serena Lawlor
Director of Defence Force Nursing, Australian Army
Serena is a graduate of Australian Command and Staff College and holds Master degrees in military and defence studies, health services management and critical care nursing.
She is currently posted to Joint Health Command as a policy Officer and has been appointed as the Director of Defence Force Nursing.
She has enjoyed a wide variety of formative postings and has been fortunate to serve in combat and Garrison health care appointments. Earlier this year she was embedded as the JHC Liaison Officer to the Department of Health National Incident Room (NIR) in support of the Commonwealth COVID pandemic response. She values the skills and insights this role afforded in addition to her LO role at HQJOC.
Serena is married to Brenton who is an Army Signals Corps Officer. They have a seven year old son, James and a six year old daughter, Rosemary. She enjoys spending time with her family and friends, cooking and long-distance running.
Back to Speaker Profiles