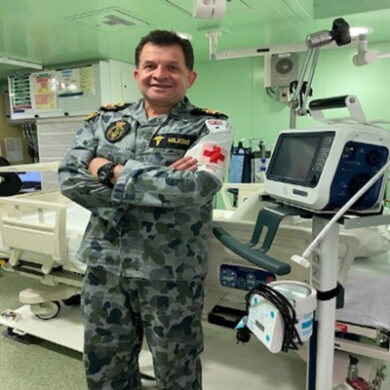 LCDR Gavin Milkins
Nursing Officer, Royal Australian Navy
LCDR Gavin Milkins joined the Royal Australian Navy (RAN) in 1986 as a sailor. Progressing through the ranks to Chief Petty Officer (CPO) Medic having postings and served on HMAS Moresby, HMAS Derwent, HMAS Westralia, HMAS Swan, FFG's HMAS Adelaide II, Darwin and Canberra II.
The posting on HMAS Adelaide (FFG) involved the role of being part of the medical team (Southern Ocean Rescue). LCDR Milkins applied for Officer Commission in 2003 for the NS PQ. On successful completion of the selection board, LCDR Milkins was promoted to LEUT Nurse 2004. LCDR Milkins has completed various postings as a Nursing Officer at HMAS Penguin Hospital performing the role of Shift Supervisor and Clinical Nurse Educator.
LCDR Milkins joined the Directorate Navy Health (DNH) as the Staff Officer Health Personnel (SOHP), and then subsequently posted to LPA HMAS Kanimbla – Patient Casualty Reception Facility (PCRF Manager) which included the Humanitarian Aid and Disaster Relief (HADR) deployment Op Sumatra Assist. LCDR Milkins next appointments included the PCRF as the Senior ICU-HDU MR2E Nurse, responsible for the provision of ICU/HDU clinical services for the deployed role MR2E and responsible for team leadership in the ICU/HDU element #1 and as the Military Employment Category Review Board (MECRB) Secretary.
LCDR Milkins recently deployed to Task Group Afghanistan Hamid Karzai International Airport (HKIA) Kabul (2017) R2E as the Officer In Charge (OIC) of the deployed Medical Team. LCDR Milkins was responsible in providing primary health care services, emergency and trauma medicine in direct support of the NATO-led Resolute Support Mission and maintaining oversight of personnel at the HKIA Role 2E to work collegiately with other NATO nations. LCDR Milkins is currently posted to HMAS Adelaide (LHD) as the Health Facility Manager (HFM). LCDR Milkins next posting on promotion to Commander is the Commanding Officer Joint Health Unit WA January 2021.
LCDR Milkins holds a Bachelor of Health Science (Paramedic) from the University of Melbourne, a Bachelor of Nursing from Charles Sturt University Bathurst, Graduate Diploma of Critical Care from University of Canberra, Diploma of Remote Locality Advanced Health (Remote Locality Health Care), Diploma of Peri-Operative Procedures (Operating Theatre) and Diploma of Health Care (Pre-Hospital Health Care).
LCDR Milkins hobbies include running, appreciating taking part on the occasional fun runs (half marathons), park runs, mountain biking events, coin collecting and dabbling in the garden. Married to Krystle with two adult children.
Back to Speaker Profiles