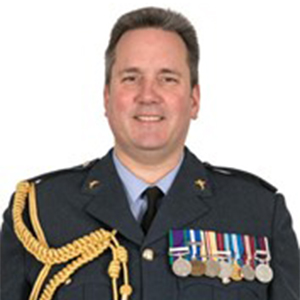 Air Cdre Richard Withnall QHS MD MA MSc MBBS FRCGP CMgr RAF
Medical Director, UK Defence Medical Services
Air Commodore Rich Withnall joined the Royal Air Force (RAF) as a Medical Cadet in 1990 and qualified from the Royal Free Hospital School of Medicine, University of London in 1992. He undertook General Practice Vocational Training at Princess Mary's RAF Hospital, Halton and Peterborough Hospitals National Health Service Trust. His UK postings have included Senior Medical Officer appointments on fast jet, multi-engine and rotary flying stations, and the RAF's recruit Phase 1 training unit. He has undertaken Command & Staff appointments at HQ Personnel and Training Command, HQ AIR Command, HQ Surgeon General and the Ministry of Defence. His overseas experience includes Afghanistan, Bahrain, Bangladesh, Cyprus, Denmark, the Falkland Islands, Ghana, Iraq, the Kingdom of Saudi Arabia, Kosovo, Kuwait, Norway, Romania and the United Arab Emirates.
He was appointed as Advisor in General Practice (RAF) in 2005, then undertook the Advanced Command & Staff Course in 2007-8, winning both the Brooke-Popham Prize for the Best Defence Research Paper and the Sir Michael Howard Prize for the Best MA student. After a tour as SO1 Med Pol in the Ministry of Defence, Rich returned to HQ AIR Command as Deputy Director Health Services (RAF) in 2010. He was selected as the first RAF Defence Professor of General Practice & Primary Care in 2013. In 2017, he became the first primary care clinician to be appointed as the Defence Medical Services' Medical Director.
Rich has remained clinically current throughout, revalidating with a licence to practise in 2013. He is on the National Performers List. An accredited GP Trainer and Appraiser Trainer since 2002, and an RCGP Examiner since 2005, Rich became a Fellow of the RCGP in 2006. He is a member of RCGP Council, the RCGP's International Medical Director, and Deputy Clinical Lead for the MRCGP Clinical Skills Assessment. He is the Foreign & Commonwealth Office's GP Advisor, a GP Specialty Advisor to the UK Academy of Medical Royal Colleges, and Convener of the World Organisation of National Colleges, Academies and Academic Association of General Practitioners/Family Physicians (WONCA) Special Interest Group on Conflict and Catastrophe Medicine. Rich is a Chartered Manager and has undertaken the RAF's Strategic Leadership and Development Programme.
He lives in the Cotswolds with his wife and two children. He remains a keen motorcyclist and fly-fisherman but, despite being very proud to have captained the RAF Medical Services rugby team, Rich has now hung-up his rugby boots in favour of season tickets at Gloucester Rugby (where watching is sometimes more painful than playing!)
Back to Speaker Profiles